given to you by Harmonix  concept artist Eliot Min
 When designing music games, it's not only important to choose songs that best represent the genre, it's also important to design characters that well represent the genre too.  Fans of music are easily offended when they feel that their musical tastes have been misrepresented, so it is important for us concept artists to make sure each outfit we design is in tune with the musical scene they come from.  We do lots of research on the fashion that each genre of music births and try to emulate the thought process of its followers.  In this assignment we will explore the design process of a concept artist.
Pick your favorite genre of music.  Design a character that you think best represents that genre.  Make sure you have 2 versions of your design.  One should be no smaller than 15 x 20 inches, and the other version should be no larger than 3 x 4 inches.  These two versions can be the same design, one just being a smaller print.  The importance of this is, when designing characters for video games, characters must be recognizable when they are close, but also when they are far away.
 Listen to a lot of music when doing this assignment, and have fun.
 Sketches due Feb. 4th
 Final due Feb. 9th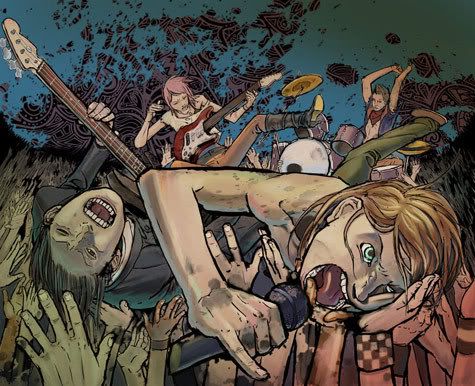 Eliot Min is a Concept Artist for Harmonix Music Systems Inc., the company responsible for the popular Rock Band games and the earlier Guitar Hero titles. When he's not busy creating characters, environments, and instruments, he creates promotional art (above) used for advertising and marketing after the game is in production. You may remember Eliot as a guest artist in the Fall of 2008 for Montserrat's Illustration Department. He is happy to join us once again!